Close
Close
Room Overview
scroll for more
Cleanliness
scroll for more
Press and News Articles
scroll for more
What time is guest check-in, and what time is check-out?
scroll for more
Meeting Spaces
scroll for more
Meeting and Events
scroll for more
Float With a View
scroll for more
Close
A Farm-to-Table Restaurant With Southern Fare
Breakfast served daily 7AM - 11AM / We will be closed for dinner until May 1, 2020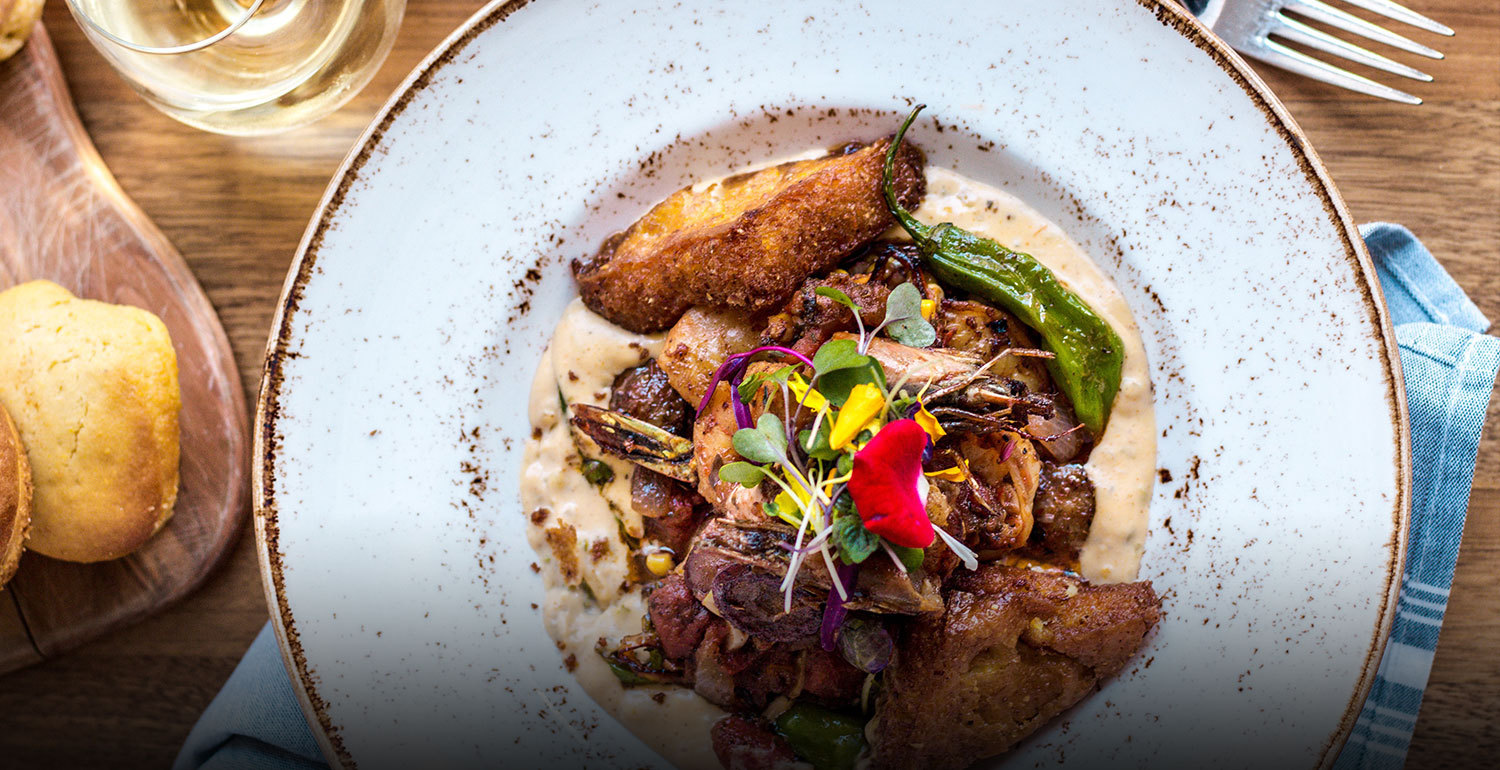 Menus
Fresh Farm to Table Southern Fare
Just as Hernando de Soto first explored Georgia in 1540, the experienced culinary team at 1540 Room aims to take guests on a unique Southern dining expedition that combines familiar flavors and favorite dishes with the best that Savannah's surrounding farms, fields, and fishing docks have to offer.
1540 Room is located in Savannah's picturesque Historic District inside The DeSoto, a local landmark since 1890.
For large parties or events, please contact: sales@thedesotosavannah.com
Breakfast Classics
Liberty Street Benny — $14
smoked ham, poached eggs, heirloom tomatoes, mozzarella cheese, fried capers, paprika hollandaise, on an english muffin with a choice of breakfast potatoes or fruit cup
Stuffed French Toast — $12
strawberry & nutella stuffed french toast with whipped cream and warm maple syrup
Georgia Corned Beef Hash Skillet — $14
served with roasted sweet potatoes & peppers, poached eggs, paprika hollandaise & chimichurri sauce
Chicken & Waffles — $13
Springer Mountain (GA) chicken, GA peach compote, fried egg, candied pecans with maple syrup
Madison Square Biscuits & Gravy — $13
biscuit, poached eggs, & sausage gravy comes with a choice of breakfast potatoes or fruit cup
Eggs & Omelets
Garden Omelettes — $13
sauteed assorted mushrooms, peppers, onions, sundried tomatoes, spinach, mozzarella cheese
Seafood Omelets — $14
shrimp, lump crab, spinach, sundried tomatoes & boursin cheese
Ham & Cheese Omletes — $13
ham, cheddar & mozzarella cheese
Provision Breakfast — $14
2 eggs cooked to order, choice of: breakfast potatoes or grits, and choice of: bacon, chicken sausage, or pork link sausage
Light Fare
Berry Parfait — $7
Berry parfait with house-made granola, berry compote, & greek yogurt
Oatmeal — $8
Oatmeal, dried cranberries, blueberries, candied Georgia pecans, brown sugar, served with side of almond milk
Pancakes & Waffles — $13
honey butter, vanilla bean whipped cream, berry compote, maple syrup
Bagel & Lox — $14
smoked salmon, everything bagel, whipped chive cream cheese, capers, hard boiled egg crumble, alfalfa sprouts, red onion, tomato
A.M. Drinks
Libations Available
Monday - Saturday: After 8am
Sunday: After 11am
Libations
Mimosa $9
Bloody Mary $12
Irish Coffee $10
Coffee & Tea
Fresh Coffee $2.75
Latte $3.75
Honeybee Latte $4.50
Chai Latte $4.50
Cappuccino $3.75
Macchiato $3.50
Caramel Macchiato $4.50
Cafe Au Lait $3.50
Mocha $4.50
Blended Frappe $3.00
Hot Chocolate $3.75
Hot Tea $2.75
Expresso $1.75 / $2.75
Kids Menu
Chocolate Chip Pancakes — $6
served with strawberries
Kid's Provision Breakfast — $8
one egg cooked to order, two slices of bacon, grits & toast
Sides
biscuits $2
english muffin $2
toast $2
fruit cup $3
2 eggs to order $4
(2) chicken sausage links $4
(2) pork sausage links $4
(3) slices of bacon $4
bowl of fresh berries $4
grits $3
breakfast potatoes $3
cereal $3 (raisin bran, cornflakes, frosted mini wheats, rice krispies)
Soup & Salads
Vidalia 'French' Onion Soup — $8
vidalia 'french' onion & bourbon soup with pimento crostini topping
Roasted Baby Beet Salad — $7
local greens, candied pecans, crumbled goat cheese with white balsamic vinaigrette
Fried Green Tomato Panzanella Salad — $11
fried green tomato and cornbread panzanella salad, pickled red onion and pear-bourbon vinaigrette
Shareables
Foie Gras & Waffles — $16
Labelle Farms, whipped Capra GIA Cheese Company goat cheese, bacon edgar's truth bourbon syrup
Chicken Liver Pate — $14
honeycomb, brioche crostini, house pickled vegetables
Candied Pork Belly — $14
with apple-fennel slaw and parsnip-pomegranate puree
Charcuterie & Cheese Board — $16
deviled eggs, pickled vegetables, & grilled rosemary seasalt flatbread
Entrees
Smoked Beef Short Rib — $29
with roast garlic dumplings, madeira-brown butter jus and blackened parsnips
Scallops & Pork Belly — $30
Edgar's bourbon-honey glaze, slow country sweet cream corn
Pork Tenderloin — $24
bacon wrapped Hunter Cattle Farms pork tenderloin with white cheddar mac n cheese & peppered bacon braised collard greens
Local Shrimp & Grits — $28
Russo's Seafood Company shrimp, blue corn grits, Patak Meats andouille, cajun cream, sweet corn chutney
Skillet Chicken Pot Pie — $22
Springer Mountain Farms chicken, local vegetable medley
Roasted Stuffed Squash — $24
quinoa, local root vegetables, kale, roasted walnuts
Grilled Lamb Chops — $32
blackberry demi, confit fingerling potatoes, asparagus
Crispy Whole Trout — $32
with jalapeno relish, hoppin' johns and local kale
Catch Of the Day
Russo's Seafood Company Daily Catch market price
Petite Filet of Beef — $34
Hunter Cattle Farm filet, southern mashed potatoes & sauteed haricoverts
Sides
farro risotto 5
herb and butter corn 5
smoked gouda mac & cheese 5
Anson Mills white stone ground grits 4
peppered bacon-braised collards 4
Bread Service: warm cornbread with jalapeño maple bacon butter and daily house made preserve
Desserts
Poached Pear Mousse Cake — $8
Earl Grey poached pears, vanilla caramel mousse, ricotta spice cake. Contains dairy & gluten.
Orange Rhubarb Cheesecake — $8
Ginger graham cracker crust, roasted rhubarb, orange blossom ice cream. Contains dairy & gluten
Chocolate Bomb — $8
chocolate hazelnut mousse, chocolate shortbread, mirror glace, toasted hazelnuts, coffee macaron.
gluten-free; contains dairy & nuts
After Dinner Cordials
Frangelico $8
Kahlua $8
5 Family Farms Irish Cream $6
Grand Marnier $10
Disaronno Amaretto $9
Grand Brulot Espresso $11
Montenegro $8
Hennessey V.s. $10
Courvoisier Vs $10
D.o.m Benedictine $11
Dubliner Honey Liqueur $11
Darvelle Freves French Brandy Vsop $11
Port
Graham's Tawny Port $12
Graham's 20yr Tawny Port $16
Taylor Fladgate 20yr Tawny $16
Fonseca Ruby Port $18
Tazo © Hot Tea
Mindful Mint
English Breakfast
Wild Sweet Orange
Earl Grey
Green Tea
Calm Chamomile
Craft Beer — $7
RALLY POINT PILSNER, Service Brewing {Savannah, GA}
MARZEN, 'Emergency Drinking Beer' Wild Haven {Decatur, GA}
BELGIAN WIT, 'Scattered Sun' Southbound {Savannah, GA}
GROUND POUNDER PALE ALE, Service Brewing {Savannah, GA}
SPF 50/50 GRAPEFRUIT IPA RADLER, Red Hare Brewing {Marietta, GA}
IPA, 'Pernicious' Wicked Weed {Asheville, NC}
IPA, 'Hoplin' Southbound {Savannah, GA} CIDER, Treehorn Cider Co. {Marietta, GA}
ROTATING CRAFT SOUR
*ask your server about our draft selection
White
PINOT BLANC, Trimbach {Alsace, France} $11/$44
RIESLING, Heinz Eifel {Mosel, Germany} $12/$48
PINOT GRIGIO, Cavaliere D'Oro {Italy} $8/$32
SAUVIGNON BLANC, Loveblock {New Zealand} $10/$40
SAUVIGNON BLANC, Phifer Pavitt 'Date Night' {Napa Valley, CA} A Georgia-Born Winemaker! $13/$52
CHARDONNAY, Mathew Fritz {Alexander Valley, CA} $8/$32
CHARDONNAY, Hartford Court {Russian River Valley} $12/$48
CHARDONNAY, Failla {Haynes Vineyard, Coombsville, CA} $120
CHARDONNAY, Rombauer {Carneros, CA} $75
Red
PINOT NOIR, Imagery {Sonoma, CA} $9/$36
PINOT NOIR, Dobbes Family Estate {Willamette Valley, OR} $11/$44
PINOT NOIR, Failla {Sovoy Vineyard, Anderson Valley, CA} $120
ZINFANDEL, Pozzan Oakville Cuvee {Napa Valley, CA} $12/$48
MALBEC, Finca Las Moras {San Juan, Argentina} $9/$36
MERLOT, Lapostolle Cuvee Alexandre {Chile} $36
BORDEAUX BLEND, 'Les Cadrans' Chateau Lassegue Saint-Emillion Grand Cru {Bordeaux, France} $13/$52
BORDEAUX BLEND, 2004 Domaine Chante Alouette Cormeil {St. Emilion Grand Cru, France} $60
GRANACHA, Bodegas Alto Moncayo {Campo de Borja, Spain} $62
SANGIOVESE, Tenuta di Arceno {Chianti, Italy} $45
TEMPRANILLO, CVNE 'Cune' Reserva {Rioja, Spain} $42
CABERNET SAUVIGNON (Organic), Gerard Bertrand {Pays d'Oc, France} $10/$40
CABERNET SAUVIGNON, Oberon {Napa Valley, CA} $13/$52
CABERNET SAUVIGNON, Phifer Pavitt 'Date Night' {Napa Valley, CA} A Georgia-Born Winemaker! $80
CABERNET SAUVIGNON, Beaulieu Vineyard Georges de Latour Private Reserve {Napa Valley, CA} $180
SYRAH, Failla {Hudson Vineyard, Napa Valley, CA} $120
Rosé
Saintsbury, {Carneros, CA} $8/$32
Hecht & Bannier, {Cote du Provence, France} $9/$36
Split Bottles
GRANDE CUVEE, Le Grande Courtage {France, NV} $12
CHARDONNAY, Landmark, {California} $18
CABERNET SAUVIGNON, Alexander Valley Vineyards {California} $20
Bubbles
BRUT, Duc Du Valmer {Pays d'Oc, France} $8/$32
PROSECCO, Cavaliere D'Oro {Italy} $9/$36
CHAMPAGNE, Laurent Perrier La Cuvee Brut {Champagne, France} $55
CHAMPAGNE, Dom Perrignon {France, NV} $170
P&P Cup — $10
pimm's no. 1, pomegranate liqueur, plantation pineapple rum, lemon, ginger beer, cucumber
Apple & Bourbon Bellini — $12
infused apple bourbon, peach liqueur, orange juice, topped with a sliced bourbon soaked apple and champagne
Cucumber Spritz — $12
beefeater's gin, lime juice, agave, cucumber, prosecco
Georgia Blue — $10
1970 vodka, blueberry simple syrup, brut champagne
Iris — $12
ghost coast orange vodka, luxardo maraschino liqueur, Kina L'Aero d'Or, lemon juice, club soda, orange wheel
Fourth Ward — $13
old fourth gin, green chartreuse tincture, agave syrup, pear liqueur, lemon juice, rosemary sprig
Desoto-Rita — $14
maestro dobel reposado, lime juice, simple syrup, muddled strawberries, basil
Rum & Rye — $14
basil hayden rye, denizen merchant rum, raw syrup, angostura bitters, orange bitters, orange peel & luxardo cherry
Sergeant Jasper — $14
Edgar's Truth Bourbon, yellow chartreuse, sweet vermouth, orange bitters, orange peel garnish
Aviation — $33
botanist gin, maraschino liqueur, creme de violette, lemon
Gold Rush — $10
1792 bourbon, honey, lemon
Book a table directly 912-443-2022